Professor John Coleman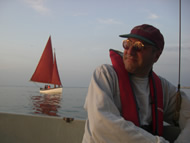 Professor of Phonetics
Address: Phonetics Laboratory, University of Oxford, 41 Wellington Square, Oxford, OX1 2JF, United Kingdom
Email: takes the form firstname.surname@phon.ox.ac.uk
Tel: 01865 270440
"John" is a very common name in the Coleman clann. So if you're looking for my Oxford namesake, the psychologist in the Department of Education whose primary interest is adolescence, look here or here. For the American TV weatherman and climate change denier, the English football manager and former player, the Australian rules footballer, or any other John Colemans, you'll need to search elsewhere.
Research
My main research interests are in phonetics (especially acoustic phonetics), models of sound change, speech technology, laboratory phonology and computational linguistics.
Speech synthesis: long ago I worked on formant synthesis in computational phonology (e.g. IPOX)
I am currently using speech synthesis to model sound change, and to reconstruct the audio form of spoken words from the past (the Ancient Sounds project)
Spoken language corpora, especially the Audio edition of the Spoken BNC, and the IViE corpus
I'm particularly interested in statistical approaches to speech and language modelling, especially methods of functional data analysis
Earlier in my career I've worked on:
Publications
Books, peer-reviewed papers and other publications
Teaching
From October 2021 I shall be on research leave for three years, so I shall not be teaching (except for a few doctoral research students). Other Departmental Lecturers are being recruited to cover all of the Faculty's ongoing phonetics teaching needs.
Course materials
Experimental Phonetics TT 2021
Reading lists for tutorials
Advanced undergraduate reading list (e.g. for finals)

Graduate phonology and phonetics tutorial topics and reading list
Practice materials
Phonetics and Phonology paper XII (aural) practice materials