Professor John Coleman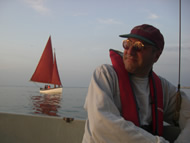 Address: Phonetics Laboratory, University of Oxford, 41 Wellington Square, Oxford, OX1 2JF, United Kingdom
Email: takes the form firstname.surname@phon.ox.ac.uk
Tel: 01865 270440
Research interests: Phonetics, speech technology, laboratory phonology and computational linguistics.
"John" is a very common name in the Coleman clann. So if you're looking for my Oxford namesake, the psychologist in the Department of Education whose primary interest is adolescence, look here or here. For the American TV weatherman and climate change denier, the English football manager and former player, the Australian rules footballer, or any other John Colemans, you'll need to search elsewhere.
Research
Publications
Books, peer-reviewed papers and other publications
Course materials
Introduction to Speech and Language Processing TT 2018

Acoustic Phonetics HT 2017

Experimental Phonetics HT 2018

MSt/MPhil Foundation Course MT 2018: Phonetics

Reading lists

Undergraduate reading list (introductory)

Advanced undergraduate reading list (e.g. for finals)

Graduate phonology and phonetics tutorial topics and reading list

Practice materials

Phonetics and Phonology paper XII (aural) practice materials